Bristol BPP Human Rights Unit event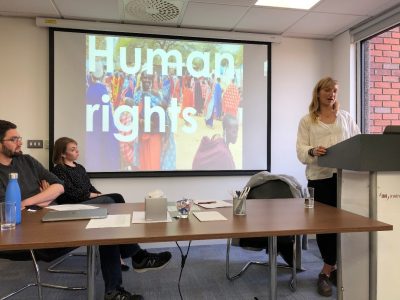 June 2019: An inspiring evening of human rights talks presented by the Bristol Human Rights Unit and BPP Pro Bono Centre and hosted by Irwin Mitchell solicitors
The BPP Human Rights Unit hosted an evening of talks and networking at the Bristol office of Irwin Mitchell. The evening was advertised towards those who have an interest in human rights and wanted to gain more information about how they could get involved in human rights work in the future, in both legal and other careers.
The speakers we heard from during the evening were truly inspiring. The first of the speakers was Jess Haley, who is a Justice First Fellow and Trainee Solicitor at Bristol Law Centre. Jess described what exactly the Justice First Fellowship Scheme was and what it was like working at the centre. The scheme was introduced in 2014 to provide funding for training contracts and pupillages for those who demonstrate a particularly strong interest in social welfare law. Being in the early stage of her career, Jess was able to provide relevant advice and tips on how to be successful in being selected for pro bono roles and projects. Her enthusiasm shone throughout, and it was interesting to hear about her unique path into the legal profession.
Following on from this, we heard from Carrie Brassley from the charity Unseen. This is an organisation dedicated to working with local authorities as well as running safehouses for survivors of slavery, in order to support those in critical need of advice and assistance, with the eventual goal of eradicating modern slavery in its many forms. With a background in international relations, Carrie had previously worked for other charities and NGOs, both domestically and abroad, and it was fascinating to hear what she had gained from each of her experiences.