Citizenship Foundation Bar Mock Trial Competition – A personal account 2018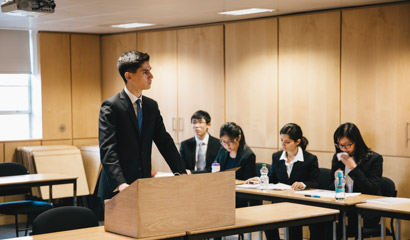 BPP's Pro Bono Centre runs free legal advice and education projects in the community. Law students have an opportunity to engage in a Mock Trial Competition with Young Citizens' (Citizenship Foundation) Bar Mock Trial Competition. BPP Pro Bono Centre will soon be recruiting for new 2018-2019. The regional heats are taking place across the country in November/December 2018. If any current law students are interested in applying for this opportunity, they should contact Kate Lennie (katelennie@bpp.com) for further details. Information about how to apply will also be emailed to all students who have registered to participate in Pro Bono projects later in the year.
"On 4th November I attended Ipswich Crown Court to volunteer at the Citizenship Foundation's Bar Mock Trial. The day saw 8 schools compete against one another in trials involving theft, fraud and grievous bodily harm, with students covering all the roles from barristers to the court usher. Throughout the day I was responsible for making sure everyone was in the right place at the right time, which included the Judges! I helped with the scoresheets and the general admin involved with the day. It was also very interesting to be on 'the other side', having competed in these Mock Trials during my own time at Secondary School. It was great to see that students were still able to have the opportunity to explore the profession in this way, but also to develop their public speaking as well as their acting skills and confidence.
In addition, the day turned out to be highly beneficial in terms of networking. As part of the event, the Citizenship Foundation had support and involvement from Red Lion Chambers, a criminal set based in London and East Anglia. Members of chambers acted as Barrister mentors to the schools and worked alongside the Citizenship Foundation to organise the event. It was a fantastic opportunity to work alongside them and help with any tasks and I was subsequently fortunate enough to be offered work experience at the Chambers. The highlight of the day was certainly the ability to have lunch with the Judges – who knew they were actual human beings! It was a great chance to see 'behind the scenes' and an insight I would otherwise never have had".
Eve Robison
"The day began being quite hectic, getting the students through the court metal detectors, phones and keys galore. Once they were in the students could not have been more engaged. It was brilliant to see the kids interested in the realities of the job as well as getting competitive amongst their schools.
The citizenship foundation ran the day flawlessly, juggling the students, teachers and judges. Managing to keep them all smiling.  I was responsible for getting the teams to and from their courts and guiding them around the building.
As the only bar student present, I also spent my day fielding questions about the real-life practice. A few students had clearly taken the experience to heart and were asking how you get into a career at the bar. I have to say I genuinely enjoyed the experience. I was on my feet for most of it and the day just flew by, but all in all, I think that the project is beyond valuable, both for cultivating talented young advocates as well as encouraging legal education. I was happy to be a part of it."
Harry Crowson, Leeds BPTC Student
If you would like to find out more about the Mock Trial Competition, please click on the following link: https://smartlaw.org.uk/mock-trials/bar-mock-trials-teachers/