Looking backwards and forwards
Tony Martin, Head of Clinics, reviews the year in Clinic and looks forward to 2020/21
It's that time of year at BPP when we look both backwards and forwards. The Clinic Team is currently working their way through a record number of student applications to be a part of the Legal Advice Clinics at BPP: 334 student adviser applications, 174 student assistant applications and 47 student director applications.
I have just signed off on the annual review for 2019-2020. No one needs to be told that this has been a challenging year, at least from the end of March. Despite this it has been a very successful year in the Clinics:
• We advised 362 clients
• 305 students worked as volunteers in the clinic
• Our client satisfaction rate was 96%.
We benefited for numerous partnerships with firms and a Law Centre©, giving us access to a range of external supervisors in various areas of law and allowing us to advise clients most in need. In addition, several individual solicitors and BPP tutors volunteered to supervise cases in the clinic. Without this support we could not deliver advice on this scale.
We were able to make the transition to an online and telephone advice clinic very smoothly and with no break in service to clients. This was due to the dedication of the brilliant Clinics Team.
Our Enterprise Our Student Directors, Adam Furniss, Jessica Miller, Oliver Bailey and Lucy Garrett were shortlisted in the Best Contribution by a Team of Students category of the LawWorks and Attorney General Student Pro Bono Awards 2020. In recognition of their invaluable support and contribution, BPP nominated Latham & Watkins LLP for Best Contribution by a Large Firm in the LawWorks Pro Bono Awards 2020, for which they were shortlisted. And of course, BPP was named winner of the Best Contribution by a Law School in the LawWorks and Attorney General Student Pro Bono Awards 2020.
The annual review helps us to understand the motivation of our student volunteers and gain an insight into what they gain from participation in the Clinics.
One student explained: "It was an extremely gratifying experience being able to assist people in a practical legal environment. It assisted me greatly developing my own client skill and drafting of letters. It also enabled me to decide what area of law I want to practice in."
And another said: "Participating in the Clinic was a fantastic experience. I helped the owner of an insolvent business fight off creditors, assisted freelancers claim their earnings from aggressive employers and advised new businesses on their IP. I gained a huge amount of confidence leading interviews and gaining insight into the type of work I hope to pursue after the LPC. It was an invaluable learning experience to be supervised by rigorous and intelligent professionals from a variety of firms, which more than once had a word of helpful encouragement on how to enter the legal market. I always had the impression that clients felt hopeful after interviews and that I was able to help. It was very rewarding and I recommend others to volunteer Pro Bono."
It is always a pleasure to review the feedback that we receive from clients. For reasons of space, here are just a couple of examples:
• "I went into my meeting with hope rather than expectation, as I didn't feel my case was particularly strong. However, I was given a warm and friendly welcome and the chance to talk; I found that simply explaining my situation clarified a number of issues and reassured me that seeking advice was well worth doing. The advisory letter I have received is extremely thorough, informative and balanced, and I feel satisfied that I know exactly what my options are and what risks go with them. Even if I decide not to pursue my case I'm happy that my decision is based on sound advice from good people who really listened to everything I said. I'd recommend your expertise to anyone. Thank you for your time and insight."
• "Excellent free advice. Clear instructions in letter of advice which I followed. I feel that I am better equipped in pursuing my complaint".
Looking forward, this year we are expanding our clinic in Birmingham to include housing and, hopefully, family law. When we can resume face to face appointments we will offer a blend of online and face to face clinics to provide greater flexibility and accessibility for students and clients.
The last word on a successful year should go to one of our students:
"BPP Legal Advice Clinic is the best thing I've done during my year at BPP. I learnt a lot about client interviews and the areas of law touched upon during my work were wide-ranging. Being able to represent a client in a case management hearing in the summer was the highlight of the year for me."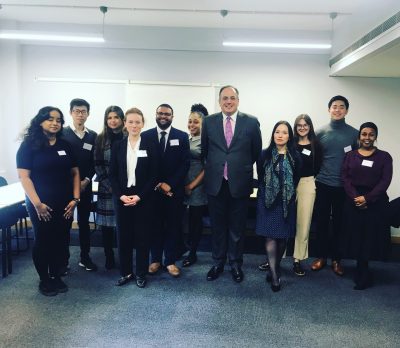 If you would like more information about the work of the BPP Legal Advice Clinics, please get in touch.