Public Legal Education – Improving knowledge on democracy
Rachael Kirkup is the Streetlaw Supervising Solicitor for BPP University Law School's Pro Bono Centre ("BPP") and manages a free public legal education project designed to empower members of the public by making them aware of their rights and responsibilities as citizens in a democratic society. Rachael attended the Teachers' Institute at the Palace of Westminster on 2 – 4 July 2018, an intensive three-day course looking at how we can engage young people with Parliament.  
Details of how to book a Streetlaw workshop for your venue can be found here: http://probono.bppuniversity.ac.uk/streetlaw/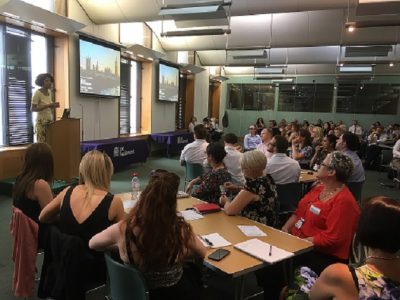 Launch of democracy-themed Streetlaw workshops for young people 
Following staff participation in the UK Parliament Teacher Ambassador programme, BPP is delighted to announce the launch of new democracy-themed Streetlaw workshops which will support schools with meeting Ofsted requirements in relation to SMSC, British Values and Citizenship – in particular developing their pupils' understanding of and increasing their support for how citizens can influence decision-making through the democratic process. 
The free workshops will be delivered by BPP law student volunteers and are targeted at 8 – 13 year olds. They include:   
Women's Right to Vote (celebrating the centenary of female enfranchisement and the long fought struggle for females to gain equal voting rights in the UK – and the right to practice law!); and 

 
Campaigning for Change (whereby pupils will learn about and discuss different historical campaigns (e.g. civil rights; ending caged hen farming) and work on several campaigning methods (e.g. designing a poster, petition, letter or a speech) to start a campaign of their choice. 

 
Other workshops in development include (for primary schools) What is Parliament, and (for secondary schools) the Supreme Court and Parliamentary & Electoral Reform. Their launch will be announced soon.  
Lindsay Jones is a mother of two primary school aged children who attend Burtonwood Primary School in Warrington, where BPP have delivered their Streetlaw programme for the last two years. She is also a Teaching Assistant at a local primary school and is passionate about education. Lindsay says of the new workshops:  
"Our children are the future of this country and I think it's so important that they understand and are introduced to Parliament and democracy at a young age.  Children need to know that if they don't like something around them, be it too much litter or (something my home town was faced with recently) the removal of a local school's crossing guard, then they have the power to take steps to change it.  Doing so helps to equip children with the knowledge and strategies they need to help shape their own futures and ensure that they participate rather than just spectate. Everyone has a voice that deserves to be heard and we should teach children to make sure that voice is heard loud and clear.  The BPP workshops are an exciting prospect as I think many parents and carers, myself included, want their children to know about Parliament and democracy but perhaps lack a thorough understanding of the subject themselves". 
Visit the Pro Bono Centre website to find out how to book a free workshop at your school. Click here for more details about Rachael's personal experience of attending the Teachers' Institute.